TUOTANTOTIEDOT
Helsinki-Vantaa lentoasema Digital
Reach an affluent audience in the most prestigious B2B environment.
MATERIAL PRODUCTION REQUIREMENTS
Content requirements
Place all relevant information within margins for the material might be scaled to match display's resolution. Margin width is 30 pixels/side.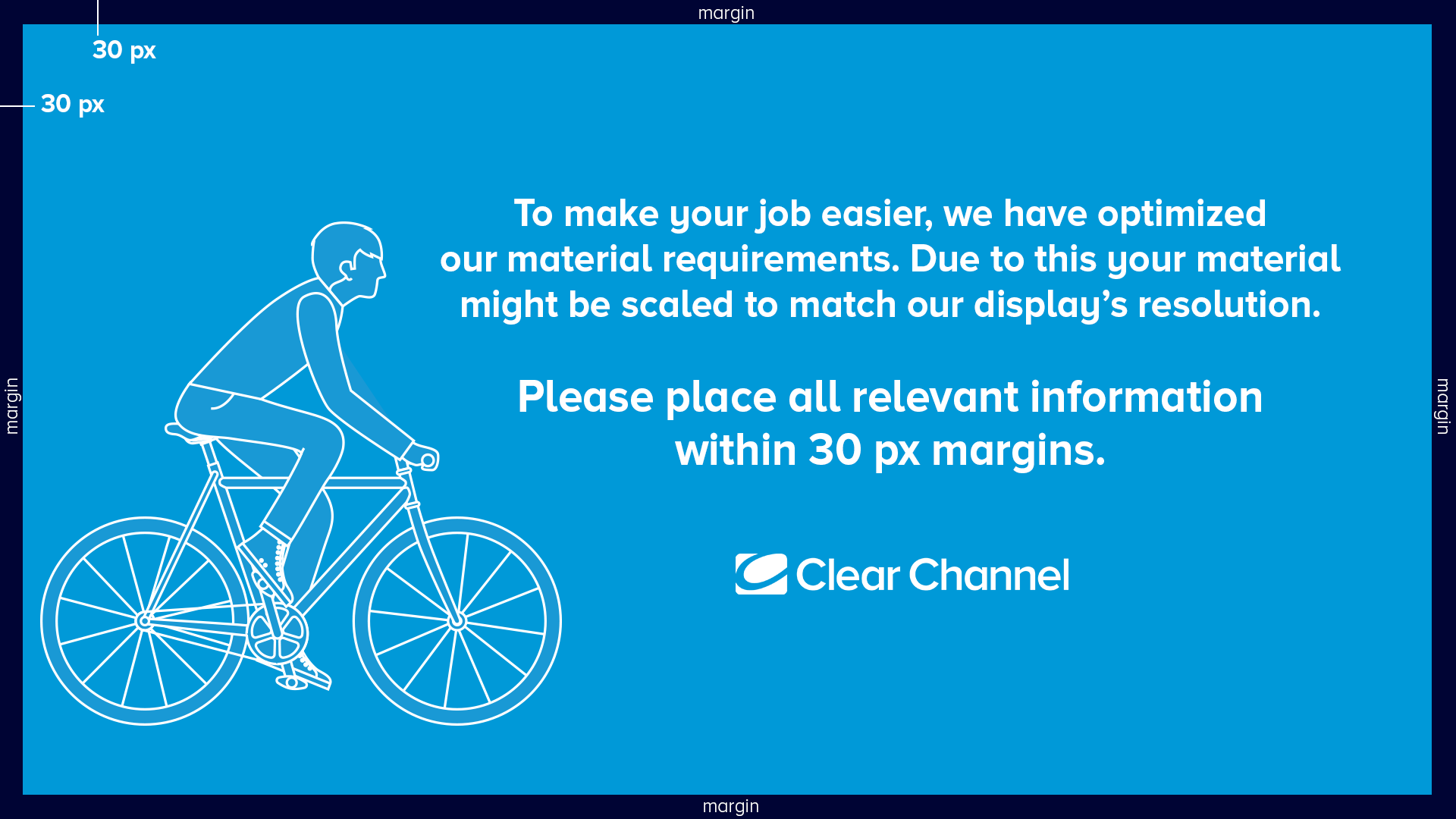 Technical Requirements
File types: MP4 (H.264 compressed) or JPG.
Frame rate: 25 fps
Max size of file: 20 MB
Spot length and resolution vary between networks, please see exact info below.
The High Street
Spot length: 10 sec
Resolution: 1890 x 990 px

The Voyage
Spot length: 10 sec
Two resolutions, all sizes are required.
1920 x 1344 px

Security check, left side
Security check, right side
1920 x 1080 px
Security check, center
The Cube
Spot length:
Resolution: 3464 x 432


Premium Traveller, The Arrivals
Spot length: 10 sec
Resolution: 1080 x 1920 px
Business Panorama
Spot length: 10 sec OR 20 sec
Three resolutions, all sizes are required.
1920 x 1080 px
Gate 22 (The Oak Barrel Irish pub)
Gate 35
1920 x 960 px
Gate 15
1120 x 480 px
Gate 26
Gate 27
Gate 53
The Gateway
Spot length: 10 sec OR 20 sec
Resolution: 3248 x 840 px
Wifi
File types: JPG, PNG.
Resolution (landscape banner): 910 x 510 px
Resolution (portrait banner): 510 x 910 px
Please note!
The banner ad can only link to www.finavia.fi site, not to external sites.
Different language versions are possible and recommended. The majority of wifi users use the English wifi version.
The upper right corner of the banner ad should be monochrome to allow the either white or dark blue 'Close X' to be visible.
Material delivery
http://uploader.grano.fi/clearchannel/digital
Material delivery by noon 4 business days before campaign starts before 12pm.
Naming the material: Year_week_advertiser_campaign subject
Maximum file size 20 MB. In addition customer pays a converting cost of 190 € / Premium Traveller campaign and 390 € / Business Panorama campaign.
Additional information regarding production
digitalcampaigns@clearchannel.fi