The launch campaign for a new product of L'Oréal Maybelline New York was produced in cooperation by Clear Channel and Mall Voice. The campaign combined the attention-catching moving images with the shopping center soundscape. A unique advertising solution raises the visibility and recognition of the brand and product. The implementation of the innovative outdoor advertising campaign was carried out in cooperation between Mall Voice and Clear Channel.
Campaign duration: Week 7, 2022
Campaign objective: To make an impressive and eye-catching launch campaign for a new product
Used advertising surfaces: The Shopping Digital network, Kamppi
Client: L'Oréal Finland Oy
A SPECIAL IMPLEMENTATION COMBINED VISUAL ADVERTISING AND SOUNDSCAPE
The advertisement for the new product ran for a week in February on the Shopping Digital media surfaces at the Kamppi shopping centre. The outdoor advertising that utilises the sounds of the shopping center can create a customer experience that has more impact and depth. Together, sound and moving images create a holistic experience for consumers and make them part of the advertisement's story.
A new and unique outdoor advertising campaign was created in cooperation between two pioneers in their respective fields. Clear Channel's modern media surfaces enable spectacular digital campaign implementations, while Mall Voice is the absolute top name for voice advertising in shopping centres in Finland. The special implementation of the outdoor advertising campaign was seen and heard on our media surfaces twice an hour for 20 seconds. The same ad also had a 10-second version that was displayed in rotation without sound.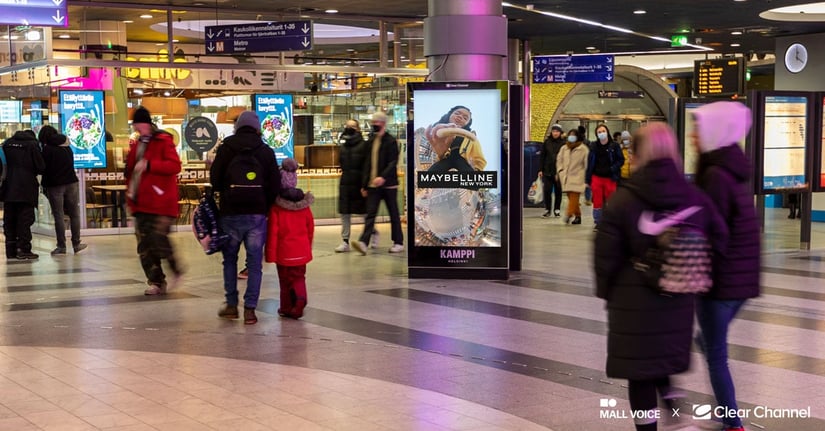 REACHING THE CONSUMER THROUGH SHOPPING CENTRE ADVERTISING
People go to shopping centres with an open mind, making these places optimal locations for making an impression on consumers with the help of an advertisement or a message that catches their eye. According to studies, advertising is approached with a positive mindset at shopping centres. In the Malls survey conducted by Clear Channel UK, 76% of the respondents say they feel positive in a shopping centre environment and 60% stay in the shopping centre for at least one hour.²
Advertising that utilises the sounds of the shopping centre can create a customer experience that has more impact and depth. Moving images and sound help to draw attention, and interactive implementations make the passer-by part of the story. Advertising in the purchasing environment reaches consumers at a moment that is the most relevant for decision-making. According to our Buyer's Journey survey, 88% of Finns have paid attention to outdoor advertising during their shopping trip, and seven out of ten say they are interested in the advertised product or service.¹ Shopping centre advertising is used to direct customers to a store where our Digital Store network reinforces the message and influences the customer's purchase decision at the right time.
Learn more about shopping centre advertising or download our Buyer's Journey guide below!
Download Buyer's joyrney guide »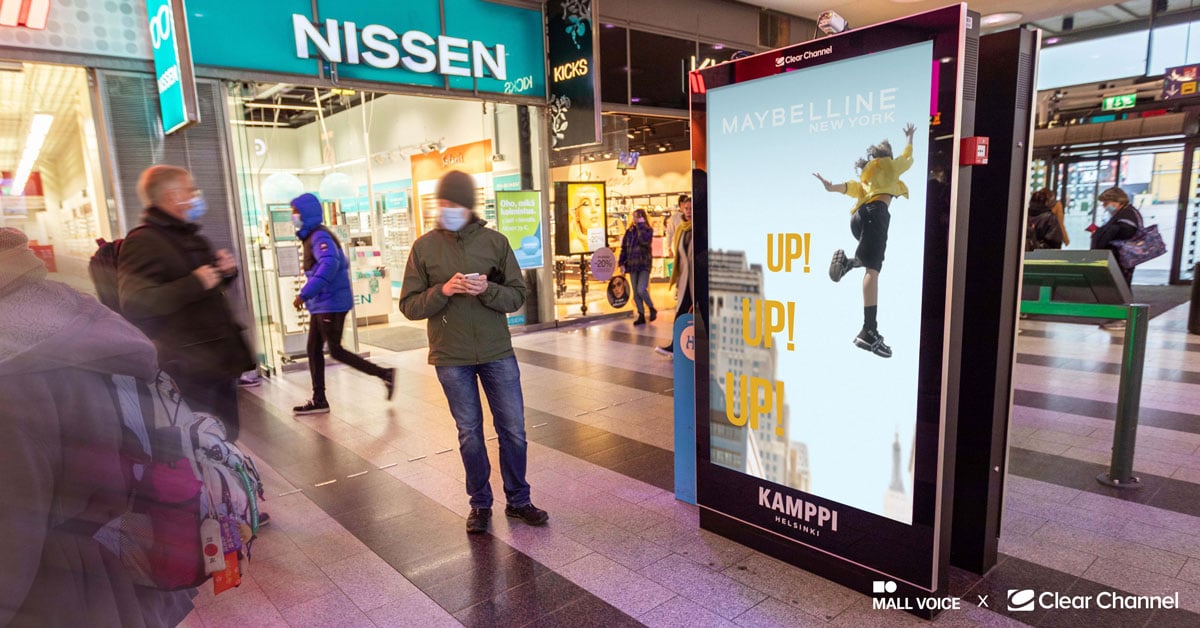 WELL-FUNCTIONING COOPERATION CONTINUES AND PRODUCES IMPRESSIVE ADVERTISEMENT
According to Olli Gestranius, CEO of Mall Voice, combining high-quality audio advertising and moving images is not the easiest trick, but the cooperation worked smoothly thanks to the professionals of both companies. This is not the first time that Clear Channel and Template Voice have combined their expertise in creating a spectacular advertisement. In autumn 2021, they created a spectacular promotional package for the premiere week of the film No Time to Die. A media reach survey was also carried out on this advertising campaign. The survey found, for example, that 81% of the respondents said that they liked the enhanced advertising.3
Read more »
Watch a great case video of the Bond film promotional campaign that displays the combination of moving image and sound in action!
Clear Channel Finland Oy
Clear Channel Finland is a nationwide outdoor advertising company. Our advertisement networks are located in city centers, shopping centers, grocery stores, streets and Helsinki Airport. We are a pioneer of digital outdoor advertising and offer a comprehensive and modern network. Our vision is to be the most innovative and successful data-powered media company. Clear Channel Finland is a part of Clear Channel Europe, which is a division of the leading global Out of Home media company, Clear Channel Outdoor Holdings, Inc. (NYSE: CCO).
Mall Voice Oy
Mall Voice Oy provides all-encompassing in-mall audio advertising solutions at shopping malls that enable incremental revenue for both mall owners & retailer brands.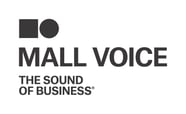 More information:
Clear Channel Finland Oy: Digital CMS & Project Manager Darius Skaudis, 040 1782829 darius.skaudis@clearchannel.fi
Mall Voice Oy: CEO Olli Gestranius, 040 750 6873, olli.gestranius@mallvoice.com, www.mallvoice.com
Sources:
1. Consumer Compass Oy. Clear Channel. Ostopolkututkimus 2018.
2. Rapport. Clear Channel UK. Malls. 2016
3. IROResearch Oy. Huomioarvotutkimus toteutettu Mall Voicen toimeksiannosta lokakuussa 2021. N=400.