Consumer Connection System
Outdoor advertising is proven to be the most effective media when it comes to increasing attention value and making your product memorable during the buyers journey. Consumer Connection System (CCS) is a proprietary survey on communication behaviour, attitudes and consumption behavior. Together with dentsu we identified target groups most receptive to OOH.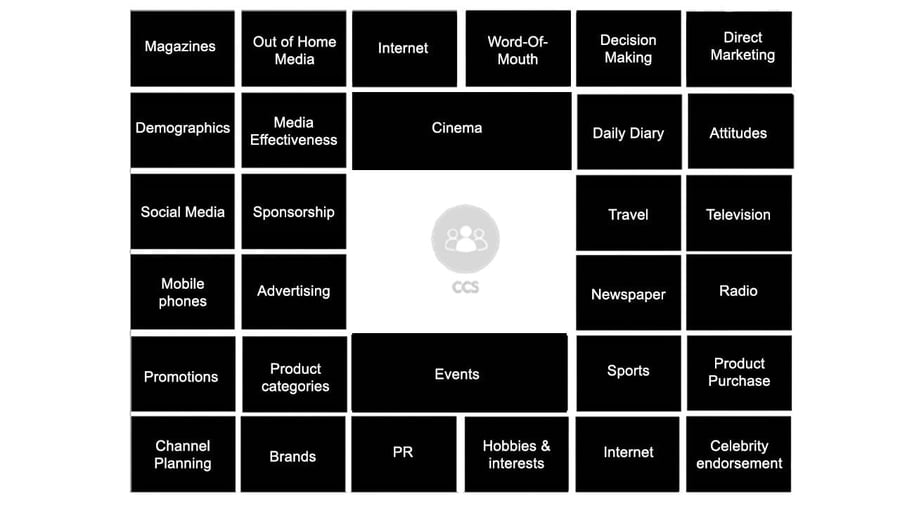 The Consumer Connection System (CCS) by dentsu describes the usage of bought, owned and earned media and their role and function for consumers. From the CCS Day-in-a-Life data people's Lean Back and Lean Forward constitution and the corresponding touchpoints can be analysed. Identifying the Word-of-Mouth potential in one category is possible as well as determining the impact for approx. 50 touchpoints. Comprehensive lifestyle and brand information complement the survey and deliver extensive information on strategy and planning. The CCS survey includes adults from 15 to 64 years of age and is executed online in over 30 countries using extensively harmonised questionnaires.
The data was gathered on Finland in 2016 and the number of respondents was 5400. Clear Channel has done further analysis from the data to recognize target groups most receptive to OOH.
As OOH is media group reaching the whole population, it was difficult to identify segments from the basis of reach. However, CCS gave a bundle of information on noticing OOH and from this starting point segments were able to be formed by clustering the population.
The end result were four distinctive segments, which differ from each other in sufficient amount. In addition to OOH locations mentioned below, all target groups replied noticing product promotions, which provoke consideration and purchase decisions.

TRENDY HIGHLY EDUCATED METROPOLITANS
The highly educated young urban population is highlighted in this segment. They have mainly low- to high-income jobs and have a carefree attitude when it comes to spending money. They are open-minded and are interested in culture. They enjoy cultural hobbies, charity work and travelling abroad.
This segment notices outdoor advertising on the streets, train and metro stations.
THE URBAN WOMAN
Urban women working in the cities and students are highlighted in this segment. Hobbies include pets, games and handicrafts.
They are most effectively reached by outdoor advertising along side roads and streets, as well as outdoor advertising in grocery stores and shopping malls. Outdoor advertising is effective during the buyer's journey when it comes to building fame and increasing attention value.
Promotions spark their interest since they are interested in trying new products.

HIGH INCOME, HIGHLY EDUCATED MEN
Social and ambitious highly educated young men who have high-income jobs are highlighted in this segment. They prefer international brands and informative advertising. They are ready to pay for good quality goods.
This segment uses a lot of time traveling on the road and this is where they notice outdoor advertising the most.
THE RETIRING POPULATION
The over 55 year-old population is highlighted in this segment that are retiring and are working part-time. This segment is social, confident and conservative. Advertising provides them with information on new upcoming products. They prefer strong brands but also make impulse purchases. They enjoy spending time at home and their hobbies include interior design, gambling and shopping.
Outdoor advertising reaches this segment effectively in grocery stores and shopping malls.
Interested in hearing more? Please contact us!