Understanding the buyer's journey: Reach, Impact, Activate
Clear Channel carried out an extensive Buyer's journey study together with research company Consumer Compass in the autumn of 2018. The study examined Finnish consumers' habits when shopping and visiting shopping centres and grocery stores. More than one thousand Finns (n=1040) participated in the buyer's journey study, and the research data was weighted to be representative of Finland in terms of population and demographics. The research results can therefore be generalised to apply to the entire population.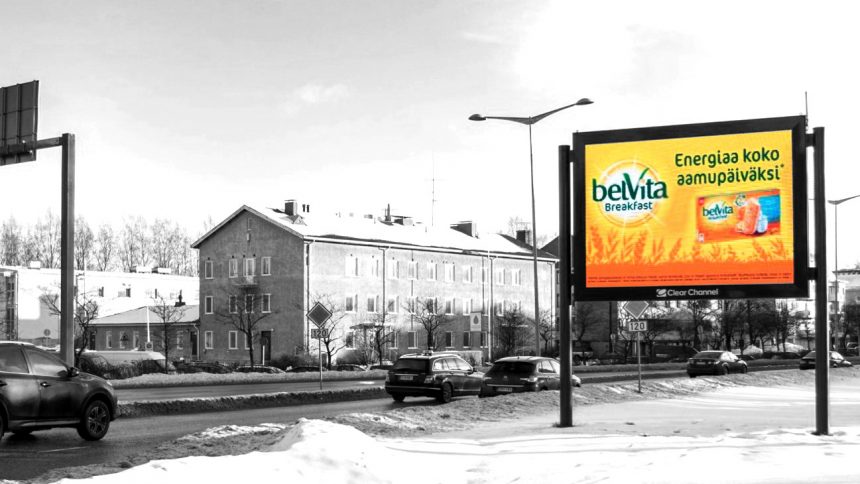 ENSURE THE VISIBILITY OF YOUR BRAND DURING THE SHOPPING TRIP
According to the buyer's journey study, Finnish consumers' shopping trips are usually planned, and spontaneous purchases are mainly made during idle time. Most trips are made by car; up to 80% of families with children go shopping in their own car. According to the study, the upcoming purchases are also discussed in detail during the drive.
You should make the consumer aware of the existence of your brand right at the first steps of the buyer's journey (reach). In addition to maximum audience reach, repetition of the advertising message is important. Outdoor, or out-of-home (OOH), advertising has always been considered an especially impactful medium for reaching consumers on the move – according to the Buyer's journey study, this still appears to be the case. 88% of Finns paid attention to outdoor advertising during their shopping trip, and seven out of ten say they became interested in the advertised product or service based on the advertisement they saw on the way to the store. OOH is noticed and it raises interest in buying, but it also directs towards buying: up to 68% of Finns say they have visited a store based on advertising encountered along the way.
Outdoor advertising is called the last mass medium for good reason, as it allows you to quickly build wide reach and effective frequency for you campaign. Read more how to reach consumers effectively on roadsides and in city centres on busiest high streets with large digital advertising solutions.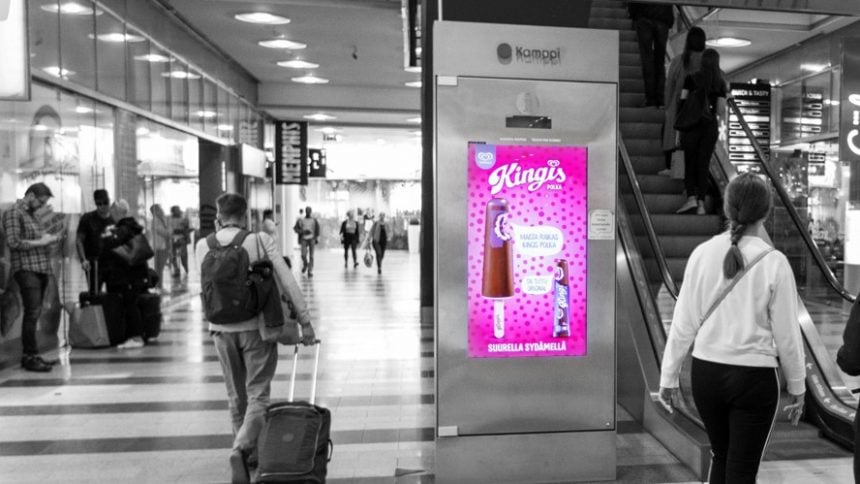 CHARM CONSUMERS SPENDING TIME IN SHOPPING CENTRES WITH AN OPEN MIND
Shopping centres are being built in central locations in Finland at an increasing pace. Finnish consumers appreciate these commercial clusters and visit them frequently. Up to half of the Helsinki metropolitan area residents visit a shopping centre weekly, and 37% of all Finns are weekly visitors. The majority of visitors go to shopping centres to shop, and visit several stores during a single visit. 66% say they do grocery shopping for their household while at the shopping centre while one third shop for clothes, but they also end up buying a wide range of other items.
Shopping centres are increasingly experienced as a sociable environment where people like to eat, have coffee and spend time using various services. One third of respondents say they spend time at the shopping centre for at least an hour at a time, but this will certainly increase along with the wider range of services and experiences being offered at shopping centres.
During the consideration phase of the buyer's journey (impact), you should inspire and interest consumers in your brand and make it famous. Advertising should charm consumers while also helping them to choose your product. This is the stage where the consumer's relationship with the brand is built, or the existing emotional connection is reinforced. This can be achieved through targeted and personalised content, for example, as well as by ensuring that your advertisement is visible in just the right kind of environment.
The shopping centre is an environment where consumers go to spend time and seek inspiration and experiences. Visitors have an open mind when walking around the stores, and impulse purchases are common: 63% of Finns say they only make the final product decision in the store, and one third end up buying more than they planned. Shopping centre advertising plays a key role in steering consumers in the vicinity of stores in a receptive mindset. Practically all shopping centre visitors have noticed advertising during their visit, and 42% say they have bought a product they have seen on a shopping centre advertising screen. Advertising is apparently experienced as an essential part of the shopping centre environment, as our study indicates that most consumers have a positive attitude towards it.
Read more about our stunning advertising solutions and inventive promotions in Finland's largest and most popular shopping centres. You should also take a look at our wide network of digital advertisements on busiest high streets of cities.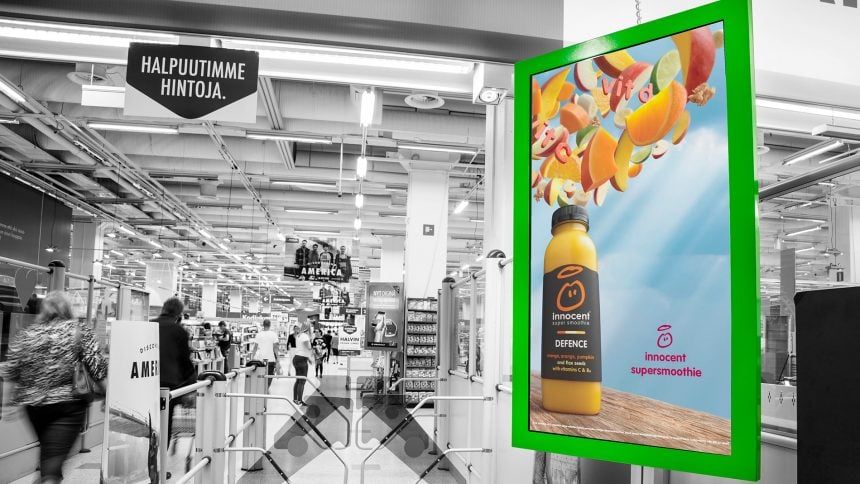 FINALISE YOUR BRAND PRESENCE INSIDE THE STORE AT THE TIME OF PURCHASE
According to the Buyer's journey study, Finns are enthusiastic store-goers. 68% go grocery shopping more than once a week, and the frequency is especially high among families with children. Shopping lists are not prepared in great detail in advance, as only a third of respondents knows exactly what they intend to buy. Many still add items to the list on the way to the store.
The journey to the store provides a good opportunity to affect future decisions, as 67% of Finns say they only make the final product decision in the store. In general, grocery shopping is conducted with an open mind and shoppers are receptive to impulses, as 57% say they end up buying more items than intended or using more money on purchases than planned. Impulse purchases included sweets, snacks and bread products, in particular, while brand loyalty is particularly strong in coffee, milk and fats products. Men's approach to shopping is more methodical, while women have a greater tendency to make spontaneous choices.
At the decision stage of the buyer's journey (activate), you should encourage the consumer to make the purchase by reminding them of the product at the time of purchase. While visibility on the way to store is important, an advertisement at the place of purchase or its immediate vicinity is the last touch in the buyer's journey and ensures the effective delivery of your message. 86% of Finnish consumers say they have noticed advertising displayed in a supermarket, which means that presence at the time of making purchase decisions is well worth it. Consumers feel that digital store media sparks interest in the advertised products and activates them: 44% of respondents say they have purchased a product advertised on a store screen. Digital store media also serves consumers and provides inspiration: 40% of respondents would like advertising screens to tell about new products.
Read more about how to effectively direct consumers to your store and product shelf through our unique Store Digital media on retail environments.