In late October and early November, Terveystalo carried out a preventive advertising campaign in our Shopping Digital network in which our advertising surfaces were converted into disinfection points using hospital-level ultraviolet (UV-C) light. The campaign aimed to remind people to take care of their overall health.
Client: Terveystalo
Objective: The campaign aimed to remind people to take care of their overall health.
Campaign duration: 26 October – 1 November 2020
Advertising surfaces: The Shopping Digital network
Good hand hygiene has stirred more discussion than usual over the past year, making many of us increasingly aware of the importance of good hygiene. Even so, few of us have realised how much our daily work and free-time devices – smartphones – gather viruses and bacteria, thereby acting as efficient germ hotspots.
In Terveystalo's distinctive campaign, Shopping Digital surfaces in shopping centres were converted into disinfection points using hospital-level ultraviolet (UV-C) light. With the help of encased Shopping Digital devices, visitors to the shopping centres were able to disinfect their phones for free in a mere 15 seconds.
To be disinfected, phones are placed in the small hatch on the advertising surface. When the hatch closes, the UV-C light disinfects the phones of viruses and bacteria. The encasing of the advertising device was designed in such a way that the light was turned on only when the hatch was closed. This ensured the device's safety and protected users from exposure to UV-C light.¹
"Given that the whole world is in the grips of a pandemic, it's important to remember the importance of good hand hygiene and resistance to disease. The purpose of this project is indeed to remind people to take care of their overall health, and the advertising surfaces offer a good opportunity for doing so," says Veera Siivonen, SVP, Marketing and Communications, in Terveystalo's press release.¹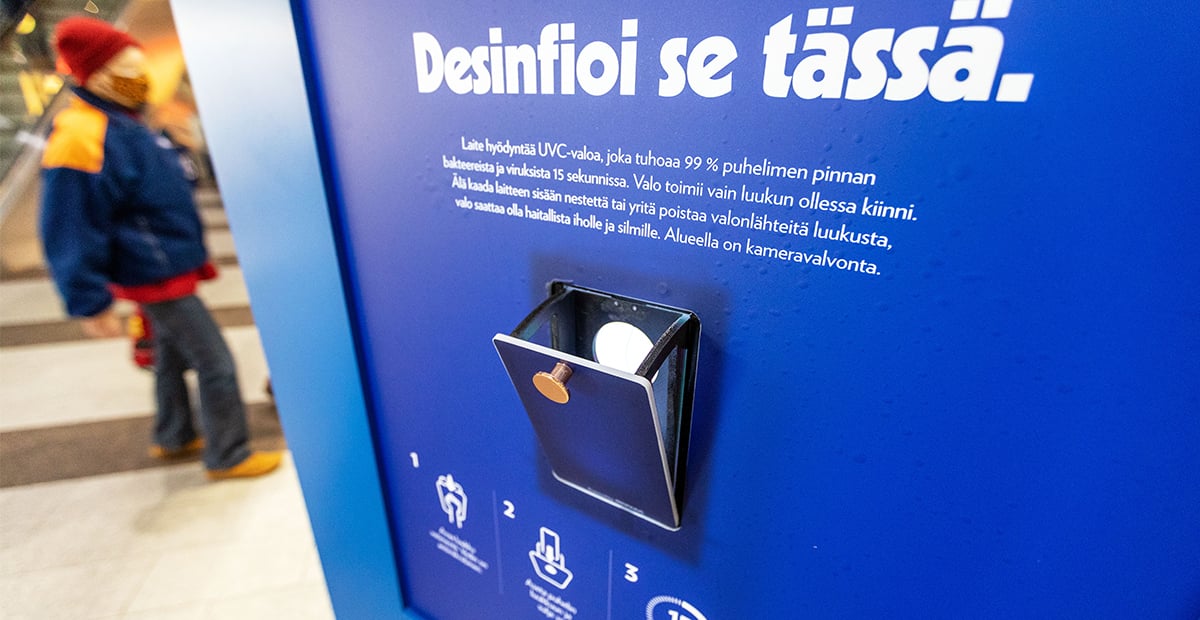 Terveystalo developed the disinfection solution in cooperation with Strelights, a Finnish company which imports and resells UV-C lights, with the intention of developing the technology further so that it can be used independently in public spaces.¹
Shopping centres − locations for making an impression
The advertising devices converted into disinfectant points were available in five shopping centres: Kamppi, Forum, and City Center in Helsinki, Jumbo in Vantaa, and Hansa in Turku.
People go to shopping centres with an open mind, making the centres optimal locations for making an impression on consumers with the help of an advertisement or a message that catches their eye. The number of shopping centres in central locations within Finland grows continuously, and Finns visit these centres frequently. Up to half of residents in the Helsinki metropolitan area visit a shopping centre weekly, and more than a third of all Finns are weekly visitors.
Our shopping Digital network reaches customers when they make their purchase decision and allows creativity
Our Shopping Digital network is an excellent way to reach consumers who are already about to make purchases. A bustling shopping centre environment reaches both existing and potential customers. Studies have shown it to be an effective advertising environment: up to 42 % of Finns say they have bought a product they have seen on an advertising display in a shopping centre. Advertising is also seen as an essential characteristic of shopping centres and people have positive attitudes toward it.2
The Shopping Digital network engages consumers with your brand and allows you to influence people in the most central of locations immediately before they make their purchase decision. Our Shopping Digital network already covers 41 shopping centres across Finland. The entire network's number of weekly contacts is a whopping 94.6 million and there is a total of 632 surfaces.
Reach customers during the most critical moment in buyer's journey:
use digital solutions to create unique campaigns − easily
Our advertising devices have displayed many dynamic solutions, and digitalisation has brought along entirely new possibilities for innovations and expressions of creativity. Dynamism is an excellent way to attract the attention of passers-by. Motion graphics give your advertisement a 60% longer viewing time³, and a topical advertisement improves commitment by 32%4.
Dynamic outdoor advertising lends itself to many things and adding changing elements to a campaign is surprisingly easy. Dynamism allows for introducing variations to messages on the basis of a single set of materials. The material can be updated in real-time and the number of variations is unlimited. Ad variations can be increased by, for example, programming the advertisement to select the displayed image and text randomly, from among a group of predetermined choices.


---
Sources:
1. Terveystalo:Terveystalon uusi ratkaisu mahdollistaa puhelinten näyttöjen puhdistaminen ostoskeskuksissa (2020)
2. Clear Channel Suomi: Ostopolkututkimus (2018).
3. Kinetic: Digital Eye and Face Traking (2009).
4. Clear Channel Australia: The Context Effect (2016).